PDFCreator Online – create PDFs online
Categories:
About PDF
Did you know that you don't need to have PDFCreator installed on your PC or laptop in order to create PDF files? With PDFCreator Online you can create, merge and split PDF files directly in your browser - for free!
The difference between converting files in the PDFCreator desktop application and PDFCreator Online is that the application has to be downloaded on your laptop or PC. It is physically located on your machine, while with PDFCreator Online, everything is literally happening online and you have access to it via any browser, wherever you are.
The PDFCreator desktop application offers many more possibilities, features and automizations, especially if you work with many PDF files on a daily basis. But if you quickly need to convert, merge or split a file and might not have your own computer nearby, PDFCreator Online comes in handy.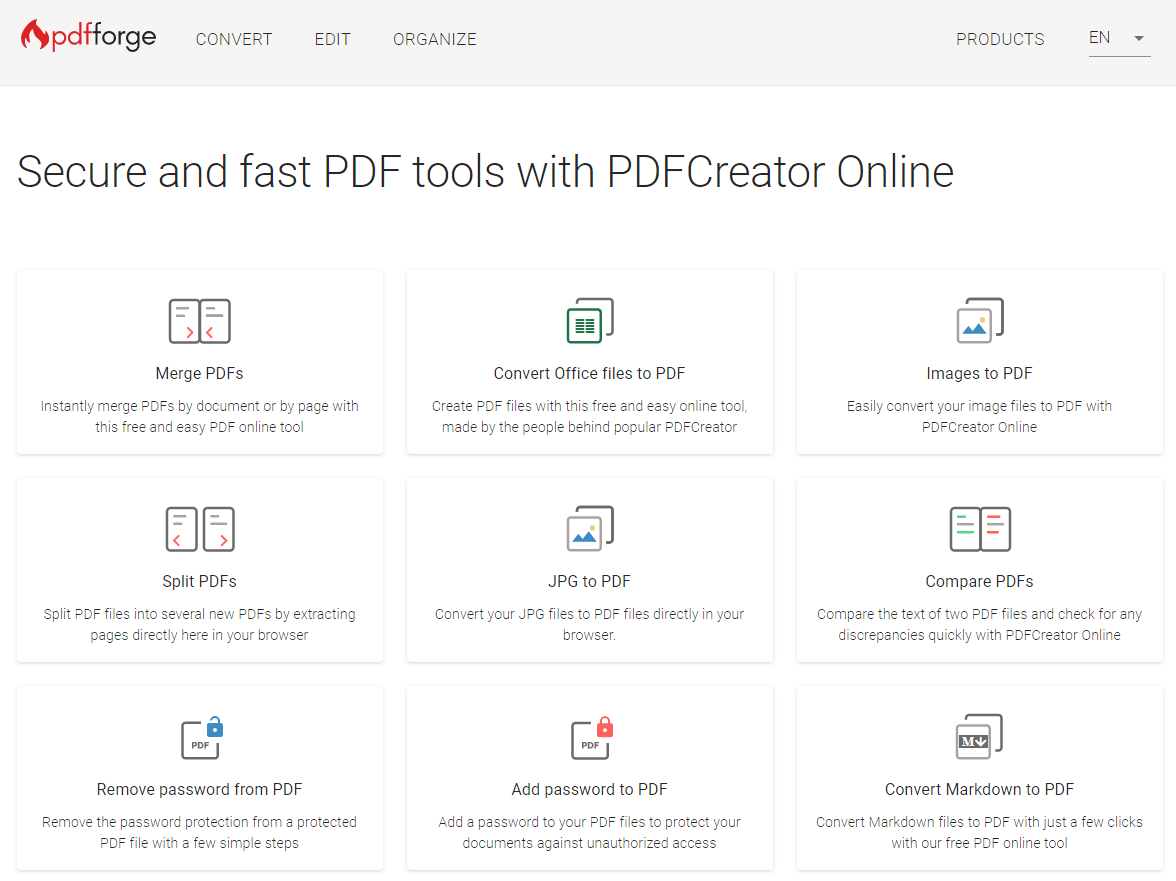 Which tools does PDFCreator Online contain?
If you quickly need to convert pictures to PDF, you can easily do this via our images to pdf tool or for JPG files the JPG to PDF tool. There you can convert jpg to pdf, as well as png and gif to PDF. The office to pdf tool allows you to convert word to pdf, and also works for Excel, Powerpoint and the Open Office formats odt, sxw, sxc and sxi.
Converting your files isn't the only thing you can do with PDFCreator Online. There is also the possibility to merge PDF files to one single file. In addition, you can merge individual pages of multiple PDFs and select the page order for the new file.
The split pdf tool allows you to split PDF files into multiple files. You can select whether all pages will be split into individual files, select individual pages or select an interval that indicates after how many pages the split shall be executed.
To protect your PDFs, it contains tools to add a password to your PDF documents and to remove a password from PDF. In addition, you can compare PDFs or extract text from PDF.
If you work with PDF/A files for long-term digital archiving, we have an online tool that lets you validate PDF/A files.
As pdfforge is subject to strict EU data policy laws, your sensitive data is being treated with care. Your uploaded files will automatically be deleted from the system after two hours. For extra security with personal data we do recommend, however, to use the PDFCreator desktop application.
We are currently working on adding more tools to PDFCreator Online in the future. So if you enjoy working with PDF files in your browser, there is definitely something to look forward to.
Would you like to try PDFCreator Online straight away? It's quick and easy - hop directly over to the PDF online tools page.