How to sign PDF documents
This is an overview of the different settings of the E-Sign module in our PDF editor PDF Architect and how to use them if you would like to sign PDF documents.
Sign your Document is the best choice, if you want a single person to sign PDF documents electronically. You can use the Sign your Document feature to quickly and safely send a document for signature. After you open a PDF document and click on Sign your Document, there is a little pop up window in which you select your signature type. You can choose between signature and initials. With a simple drag and drop you can place your preferred signature type on your document. Remember to click on Finish.
Request Signature allows you to precisely define the workflow steps and persons involved in the process:
Sign PDF document: Request Signature Steps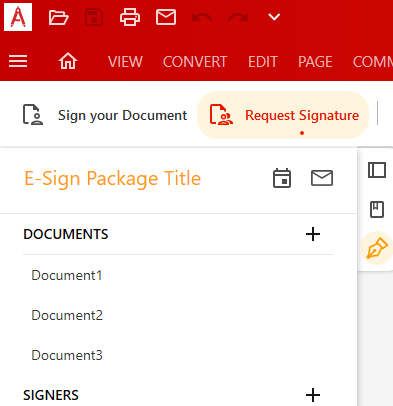 Step 1
You can start by entering a title for the E-sign package. A package is made up of all the PDFs you want the recipients to sign. Optionally, set a date by which the files are to be signed and set a message for all signers
Then you can select several files, arrange their order, rename them and add them to the E-sign package (the PDF file size limit is 10 MB).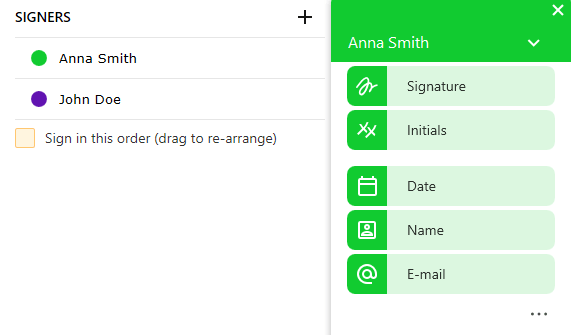 Step 2
Add signers who you want to sign a PDF file. If you need to sign the PDF file as well, you can add your own name too.
Set a signing order if you have added multiple signers to your package and want each of them to sign the filesin a specific order.
When you click on the signee's name you can select a signature field type. There are two options plus additional field types like date, name, e-mail, title and more. You add them for each signee by drag and drop.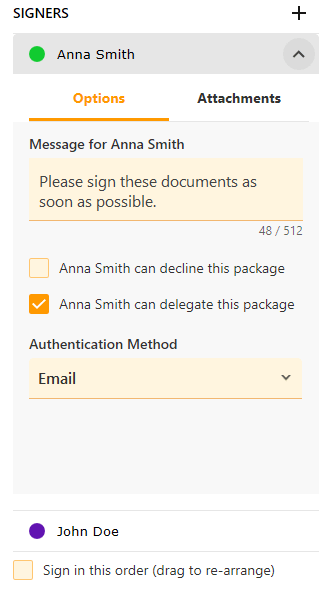 Step 3
In the list of signers, you can click on Signer Options next to each name. There you can leave a message for each signer and request mandatory attachments (e.g. passport document). Once received, you can either accept the attachment or reject it. If rejected, the signer will be notified by e-mail and will be prompted to upload a new version of the attachment.
There are two authentication methods, by e-mail or by questions and answers. The identity of the signer will be verified with your selected method.
In the Options settings you can select whether or not the signer is allowed to decline the package and if they are allowed to transfer the signing responsibility to someone else.
Your package is now ready to be sent.
The E-Sign Manager allows you to manage your signature processes. Within this folder, you can:

Send reminders to recipients who have not yet signed your packages.
Review a signed document, accept and sign documents.
Download all signed files.
Modify/edit your packages. Please note: If you make changes to a package that has already been sent for signature, it will be disabled and you will have to resend the package for signing.
Save a package as a template for future use.
Mark your packages as complete.
Archive your packages.
Delete your packages.
Access the summary of all actions associated with a signing process.
The Drafts button allows you to modify/delete your saved drafts.
The Templates button allows you to modify/delete your saved templates.
The Manage Signers feature allows you to view and edit all your stored signers. You can add/remove them as you please.
The Layout feature allows you to save all the fields you have added to your active documents to reuse them for future documents.* You can name your layout and add a description.
My Signature to sign a PDF online
Choose your signature and/or initial appearance. In order to add your signature, you can choose to draw your signature, select from four sorts of type appearances or upload an image of your signature.
Good to know: Electronic signatures are not to be confused with digital signatures. For the difference between an electronic signature and a digital signature please check out our article Electronic Signature - How to sign documents online.