If you work with PDF files on a regular basis and convert multiple files of the same kind (for example invoices), there are features in a PDF converter tool like PDFCreator that can really help to speed up your workflow. One of these time-saving settings is "automatic saving". It lets you pre-select the target folder and values for the file name.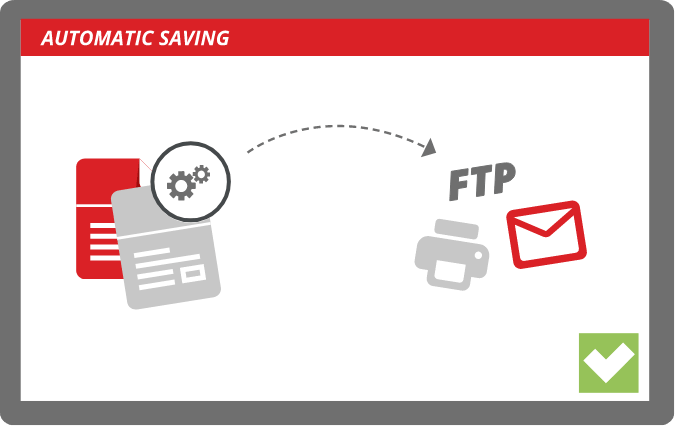 Your documents get saved automatically after printing
As mentioned in our article about How to create PDF files, one of the ways to create a PDF file is by printing it directly from the original document. It doesn't need to get any more "complicated" than that if you want to use the auto-save feature. In fact, it gets even easier. You enable automatic saving and predefine the settings once in your profile and connect a PDFCreator printer to it. Afterwards you will be able to skip the interaction with PDFCreator and just print directly from your document without having to choose a target folder or file name.
FAQs: Automatically saving your documents
After you have created your PDF files you can either save them manually at your preferred location or you set up the automatic-save function in PDFCreator. This will automatically save your documents straight after the conversion at your defined target.
How to use auto-save for PDF files
In PDFCreator you can activate the auto-save function and connect one or more user profiles to a selected printer, which then automatically saves your files after each conversion. You can choose the output format, a target folder and even predefine values like file name etc.
Where are auto-save PDF files saved?
If you want to save PDFs automatically, you can choose a target folder for them in the settings of PDFCreator. You can further automate the process with the help of user tokens.
How do I batch save a PDF?
Automatically saving PDF files is only one of the many auto-features that are included in PDFCreator. Please check out our article on PDF automation to find out how users who need to process a high volume of documents can save time by taking advantage of intelligent automation features that PDF automation software like PDFCreator has to offer.
---
Other articles you might enjoy